Dokaz da je Kozjak rasadnik talenata u raznim sportovima je i Jan Gobec.
U sportu kojemu su natjecateljska arena šume i planine, ovaj dečko je dokazao da se ne može izgubiti jer odlično čita karte i brzo trči, a sve su to zasluge našeg zelenog "brda" gdje je odrastao, njegove volje, ljubavi i upornosti, te velikog angažmana njegovih roditelja.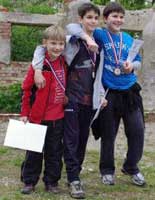 Sprint prvenstvo Hrvatske – Vihorašima osam medalja
U nedjelju 22.04. na novoj karti "Novi Dvori" pokraj Zaprešića održano je prvenstvo Hrvatske u sprintu. Nastupilo je nešto više od 150 natjecatelja iz Hrvatske i Slovenije, a Vihor je bio najmasovniji klub s preko 40 natjecatelja. Organizaciju natjecanja sproveo je orijentacijski klub "Kapela". Vremenske prilike bile su vrlo promjenjive od sunca do kiše, no bilo je vrlo ugodno za trčanje. Staze za natjecanje su bile tehnički vrlo dobro koncipirane i većina natjecatelja je očekivala nešto lakše uvjete zbog najave o park šumi. Šuma je bila, ali ona prava i bila je pravi izazov sa svojim gustišima i močvarama za veliki broj polaznika tečaja, škola i novopridošlih natjecatelja. Jedina zamjerka se odnosi na
veće količine smeća u pojedinim dijelovima šume, no to je nažalost odraz naše kulture i gospodarenja povijesnim objektima.