Borna Jukić je dečko s našeg kvarta.
Sestre Buga i Vita treniraju kod nas u našoj Sportskoj akademiji. Iz Splita se vratio sa 7 zlata, 1 srebrom i 1 broncom. ČESTITAMO ti na postignutim rezultatima i s pravom te prozivamo Phelps s Kozjaka.
ČESTITAMO i tvojim roditeljima, jer znamo da uz tvoju volju i upornost, važan dio je obitelj koja te podržava, prati i veseli se svakom tvom uspjehu.

KADETSKI DRŽAVNI PRVAK U PLIVANJU
Autor: Darko Šlehta, 21. 3. 2012.
Danas je u našu školu stiglo pismo s nadnevkom 19. ožujka 2012. godine. Napisali su ga i potpisali roditelji našeg učenika Borne Jukića, učenika 8.c razreda. Točnije, to pismo donio je osobno Borna, a u njemu ovako piše:
"Znajući svog sina i njegovu skromnost imamo potrebu javiti Vam njegove uspjehe sa prvenstva Hrvatske u plivanju održanog u Splitu".
Pismo su potpisali mama Sanja i tata Ante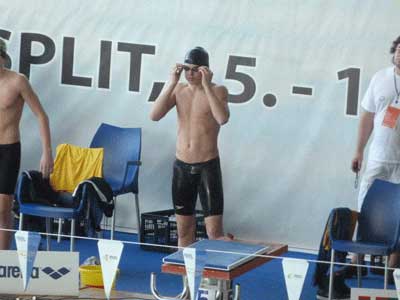 Borna je nastupio u 9 utrka u kojima je osvojio 7 zlatnih medalja, 1 srebrnu i 1 brončanu.
Postao je KADETSKI DRŽAVNI PRVAK u 7 kategorija:
1. 400 m – slobodno
2. 400 m – mješovito
3. 200 m – slobodno
4. 200 m – leđno
5. 4 x 200 m – slobodno (štafeta)
6. 4 x 100 m – slobodno (štafeta)
7. 4 x 100 m – mješovito (štafeta)
Srebro je osvojio u disciplini 800 m slobodno i broncu u disciplino 100 m leđno.
Za ovakav uspjeh ne čuje se svaki dan. Mnogi su ostali ugodno iznenađeni kada su čuli čime se Borna bavi i kakve je uspjehe postigao.
Ovakav popis teško je steći, uz puno odricanja i jake volje. Svatko tko zna Bornu, na ovome mu može samo iskreno stisnuti ruku i glasno kazati: ČESTITAM!
Borna se plivanjem počeo baviti u prvom razredu osnovne škole. Izjavio je kako je njegova mama Sanja htjela da se on bavi nekim sportom. Započeo je s plivanjem u plivačkoj školi. Kasnije, od šestog razreda redala su se sudjelovanja na državnim natjecanjima kao i odlazak na inozemna natjecanja (Beč, Sarajevo…). Na upi t koliko će se još baviti sportom, odgovorio je da će to ovisiti o daljnjim obvezama i rezultatima koje će postizati.
Ožujak 2012.